"I'll catch up with you", Oohye says before he breaks into a run. The others face the rubble of a ruined castle tower before them… they don on Redbrand cloaks. Myrl takes point and walks towards the canvas curtains.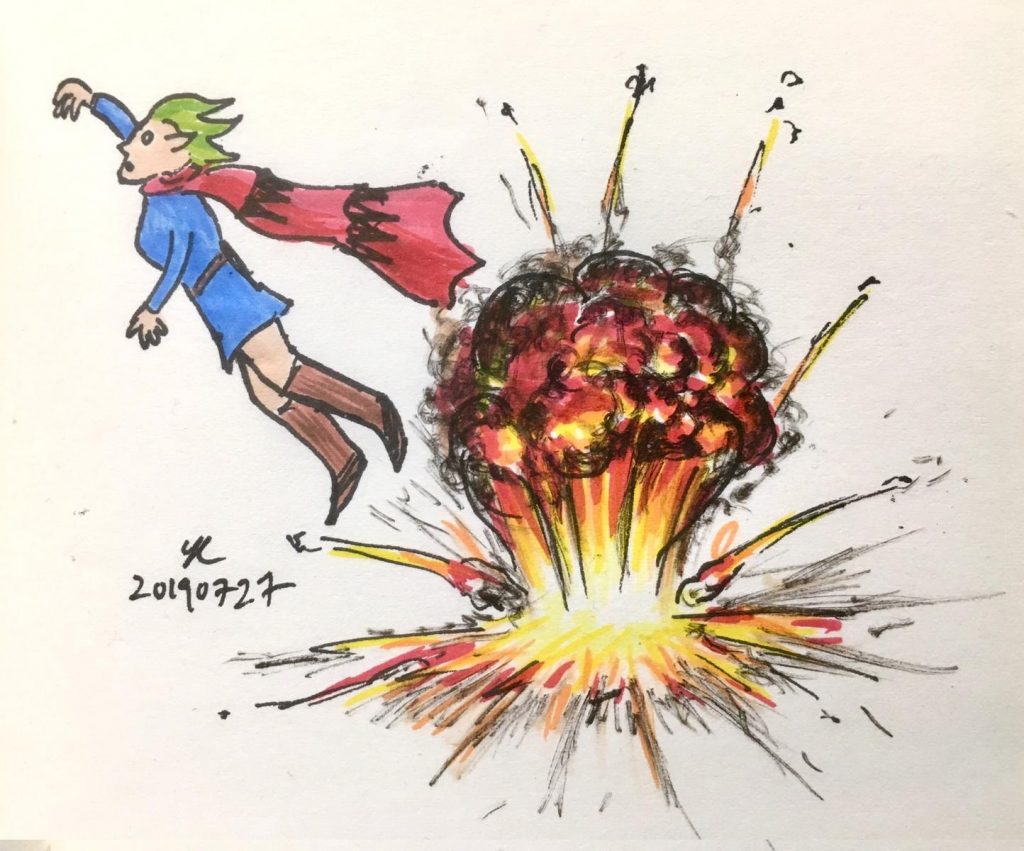 But before she can even get to the curtains, she steps on a bead that suddenly explodes into a fireball. She manages to quickstep her way but can't hide from the full blast of the spell and is thrown through the curtains straight into the castle. Three bugbears are first on the scene. Fight:
Gungho, the three bugbears charge up and take on the five adventurers. Myrl is deeply wounded and falls in battle.
Ixir and Redspear rain magic missile on the first bugbear, he explodes from the concentrated force of energy.
Milo chops down another bugbear… the last bugbear was trading blows with Kavier (unsuccessfully) before the rest descend on him.
Goblins come into view… Two disappear into different ares of the castle while one takes potshot at them (not very wisely and die).
Believing themselves well-positioned to take on more enemies, the adventurers line up and ready their action. Unfortunately for them, King Grol appeared holding Gundren Rockseeker by the scruff of his neck… curiously, a female drow stood next to him. Grol tells them to lay down their weapons even as goblins swarm them, knocking them out cold.
They wake up in a dark cell, stripped down to their undershirts/underwear. Redspear gathered from Raven that they had been brought south of Cragmaw Castle to the Pointy Sticks' camp. The Raven can also see smoke from the castle and further; it seems fighting was still going on outside. Bruised and battered, they settled in to get what little rest they could.
The next day, the guard was called away by another goblin. Milo took this chance to attempt bending the bars — he succeeds and the group escapes confinement. They follow a long corridor before surprising two goblin guards on patrol.
Myrl flashes her boobs in an attempt to startle them. With what little they have, they manage to kill these guards quickly. Myrl and Redspear forged ahead followed by the others in the dimly lit corridors. They hear the clinking of cutlery on plates and come upon a kitchen. Thinking better of it, they retreat back along the corridor. Unfortunately, a specter appears before them and Redspear tells them that it doesn't exist!!! However, once the creature attacks Milo, Milo was able to confirm that it does in fact exist. They fight and manage to kill the undead creature.
Taking the other fork, they realise there are more cells along this end. They find a half-elf named Atala and free her and her polar bear, Addy.
Jokingly (or not!?), they wanted to know where their silverweed went and wondered aloud if the polar bear could find it. Atala confirmed if this was really what they wanted (really?! at this time?!) and instructed her companion to sniff it out. Addy charges further along the corridor and then around a corner. They see that she has brutally attacked a guard standing outside a door and threw the goblin aside, dead. Inside, they find some of their (cheaper) gear. Kitted up, Atala tells them confidently of her plan: She plans to have Addy charge up the stairs where they brought her down. She hops onto the bear and together they go! They follow their lead and as they ascend, they hear the sound of fighting…